By Sam Jeffery
On any given Friday around 3pm many of us will generally be winding down from professional servitude and beginning to ramp up for the impending weekend frivolities. However on this Friday just past, patrons of the Eastern Suburbs were treated to a spectacular pre-weekend treat as Madills Farm hosted Ernie Merrick and his Wellington Phoenix to train in front a throng of excited football fans of all ages.
As part of their Football United 2014 tour, that will see Premiership sides Newcastle and West Ham head to New Zealand, the Phoenix were in Auckland and made the home of Eastern Suburbs their own for the afternoon. Two Suburbs first team players, Ernest Wong and Haidar Jabir, were also lucky enough to get the opportunity to train with the players, whilst the generous swell of fans were able to have their photos taken and shirts signed once the session came to its conclusion.
Having trained earlier that morning the session was a relatively light affair but was equally an excellent opportunity to observe the showcase of talent that the Phoenix have. Stars such Tyler Boyd, Kevin Durante and Matt Ridenton could be seen caressing the ball around Madills with aplomb, under the watchful eye of Ernie Merrick, whilst the Lilywhites own Jabir fitted in with pleasing ease.
Suburbs keeper Wong worked separately under the guidance of former Celtic and Scotland keeper Jonathan Gould, now Phoenix GK coach, and was thrilled at getting the chance.
"It was great to play with professional players and get the chance to be coached by someone like Jonathan Gould. I really enjoyed it, particularly as it was at Madills and the club I play for."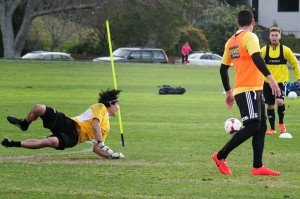 Whilst only two Suburbs players were lucky enough to get the chance to actually train with the Phoenix, hundreds of young fans got the opportunity to interact with the players once the session was over and it is to their great credit that not one fan would have been left disappointed with the time the players took to sign and be photographed with.
Suburbs Chairman Chris Ruffell, responsible for orchestrating the successful event, was left satisfied by what was achieved.
"I think it was a good day all round, we had a big crowd which is great and I thought the Phoenix were certainly very approachable and interacted very well. Overall it's been very worthwhile and we thank them for their efforts and would love to welcome them back anytime".
It was a sentiment echoed by the Phoenix hierarchy.
"It's been a great day", Coach Merrick commented, "both the Suburbs boys are clearly very talented, and this really is what it's all about [regarding the swarms of jubilant youngsters running around]".
It would be impossible to disagree with the affable and thoroughly likeable Merrick, and with the sun beginning to set late on Friday it was with great thanks that Eastern Suburbs bade a fond farewell to its guests.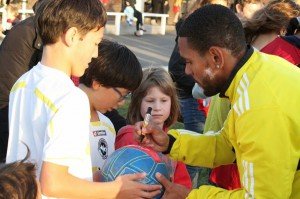 The Phoenix return to Auckland next month to take on West Ham at Eden Park, and it would be a shock should there not be a whole host of young Suburbs players present, clad in the shirts signed by their heroes. The tour is dubbed Football United, and anyone present on Friday would not testify to a more appropriate title.