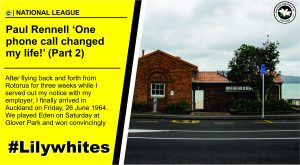 The following article provides the second part of Paul Rennell's 'One phone call changed my life' story when he joined Eastern Suburbs in the mid 1960's. Paul captained some of the Lilywhites most successful Premier teams, he also went onto captain the All Whites. Paul is now the Patron of our club.
'After flying back and forth from Rotorua for three weeks while I served out my notice with my employer, I finally arrived in Auckland on Friday, 26 June 1964. We played Eden on Saturday at Glover Park and won convincingly 7-1. John Wrathall scored four goals, Dave Buller two, and yours truly one. Strange, but my first game for Suburbs against Mt Albert was the beginning of a winning streak which ended when we lost to Mt Wellington on Saturday, 1 May 1966. It must have been a lucky charm when I joined Suburbs!
On Tuesday, 30 June I met Ken Armstrong at work and he took me to my first training run at the St Heliers Bay Reserve. We parked in Goldie Street and when we got out of the car he said "there is your changing sheds" pointing to them and said "there is your shower afterwards" pointing to the tide. I thought what the hell have I got myself into!
Early August, I was picked to play for Auckland (as inside forward) against Poverty Bay at Gisborne. About five minutes into the game, Dave Lowry (Suburbs and Auckland right half) got taken out in a very crude tackle. While the ambulance staff was attending to Dave, Ken appeared on the side line and said "Gary Dunsford you go to right half and Paul you go to left half with Ronnie Cochran going to inside forward. We won 4-1. When I went into the changing sheds, Ken shook my hand and slapped me on the bum saying "that's the end of inside forward". I said "I have an agreement to play inside forward". "OK only to the end of the season"'