It's that time of year again. The time of year where optimism grows, new boots are unwrapped and excitement reaches fever pitch. After a summer of sunshine and siestas for the social players amongst us, and gruelling campaigns for the more skilled pros, it's time to brace ourselves once again for the start of another season at the Eastern Suburbs.
After what feels like months of  reacquainting themselves with the lung-bursting, sweat-inducing rigours of  pre-season training,  the 1sts and Reserves kick off their respective campaigns next weekend against Metro FC at Michaels Avenue.
Across a raft of friendlies the relatively young 1st team has grown in stature and confidence, under the watchful eye of coach Mark Holt. A successful 1st team filters  down through the club and chairman Chris Ruffell believes the Lilywhites are destined for a good season.
"ESAFC are expecting a successful season with strong squads in the Mens and Womens Premier and Reserve teams. Furthermore with the two artificial turf surfaces being built at Ngahue Reserve, the expectation that we will have access to these grounds will overnight solve many of our training facility problems too"
Of course the start of a new season  also couples hand in hand with the need to spruce up the Suburbs changing rooms and club house. So under the all-seeing, all-knowing gaze of General Paul Marshall, ably assisted by Lieutenants Chris, Mike and Tony, this weekend saw the would-be superstars of the Eastern Suburbs reduced to painting, shoveling, wiping, sweeping and even unclogging, in the name of fostering team unity and giving Madills Farm a pre-season facelift.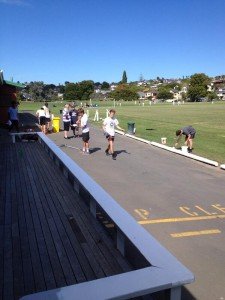 After hours of hard work (and conveniently devoid of coaches Mark and Drew…) the hardy Suburbers had restrengthened the foundations and polished the walls to Fortress Madills, where many battles will be fought (and won) this season, and earned themselves the rich reward of a Hells Pizza each.
The scene is set, the anticipation levels simmering away, and all that's left is to stride forth into battle. It promises to be a great season up at Madills Farm.